I spend just as much time editing other people's footage as I do my own. This has always been the case, especially given the cost savings involved for many of my smaller clients. But for the last few months, editing self-shot footage is all I've been doing; that and advising people on how to film themselves. Along the way, I've been learning a lot about what you can realistically expect from this sort of video content, and how to get the best results. I work with a lot of comms and marketing teams, either in-house or on the agency side, so they're often the ones pulling everything together. If you're finding yourself in that situation quite a lot at the moment, this guide will hopefully be useful for you. OK, let's get stuck in.
1 – Keep it simple
During lockdown I've worked remotely with all kinds of people, from teenagers to people in their 70s. Clearly, the levels of tech knowledge are not going to be the same across the board. Some people have had full camera setups, or professional audio equipment that can be synced with phone video. Some people simply didn't how which buttons to press on their phone to record a video. That kind of thing is not easy to teach over Zoom, trust me. In many cases we're asking something to do something completely out of their comfort zone. Actually, two things – operate a camera, and talk to it.
That's why it's crucial not to be too ambitious with the way you capture your video content. That means keep it simple, keep it brief, and keep the camera static.
You want a screen full of people to say a message at the same time? Great – how are you going to make sure they say it in sync?
You want a bunch of people singing the same song? Lovely – what key do you want them to sing it in?
I'm not saying don't be creative – it's about figuring out how to make the filming part super simple, so a professional like me can do the heavy lifting in the edit.
Here's an example of a video I produced for Bury Council to thank their key workers. To minimise any risk, we asked the key workers to do the filming themselves. We gave out a very short, simple shopping list of the shots we needed, e.g. waving to camera, wide and close-up shots of someone doing their work. Some people did more than that, but the edit was planned in such a way that it would still have worked even if all we had was people waving.
2 – Set up a Dropbox file request
You need to get the original footage wherever possible, and to make this an easy process for people who might not be tech-savvy. Most smartphone cameras will film in HD quality, or close to it, but if you were to send an HD video over WhatsApp, for example, the quality becomes much lower. WhatsApp heavily compresses the file so that a) it will send quicker and b) it won't obliterate your data plan.
Dropbox file requests are an underused tool that lets people upload a file without any hassle. It works on a phone or desktop computer, whether the user is logged into Dropbox or not. They just hit the link, select the file/s, and they'll appear in your Dropbox. There's no compression involved, so when you download the video it will be exactly the same quality as what was uploaded.
You can do this with a free account, the only significant restrictions being how much space you have overall, and an individual file limit of 2GB. That's the same limit as the free version of WeTransfer, and won't be an issue in the vast majority of cases. You might run into this problem if you're capturing more than about 45 minutes of HD video.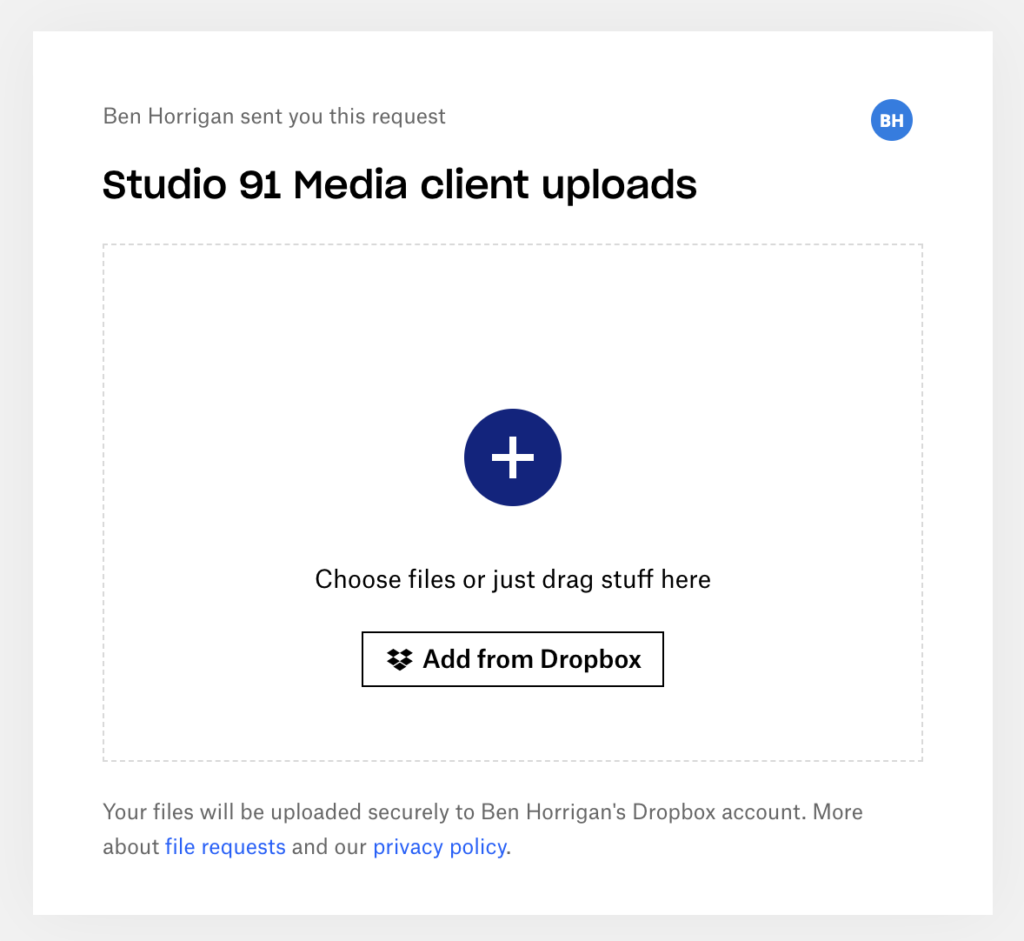 3 – Direct remotely where possible
Ideally you need to be able to see, hear and speak to your contributor while they're recording their video. You could simply record a Zoom call with them, but you won't get the same quality as you would if they were to record locally on their phone. You also run the risk of the video/audio dropping out, depending on the strength of their Wi-Fi and your own.
The best solution, then, is for the contributor to film themselves on their phone, but to also have another device open with a Zoom link. I appreciate this goes against my first point of keeping it simple, but it's all a balance between minimising friction and maximising quality. If you and your contributor can manage this method, then it's worth it – trust me.
One of the bigger jobs I've worked on during lockdown is the Sandford St Martin Awards, an annual event which celebrates TV and radio programmes about religious and ethical topics. With this year's edition inevitably being streamed rather than face to face, they enlisted me to record interviews with all their finalists. In the end I interviewed about 30 people, with the participants recording themselves on a phone while also connected with me via Zoom. There were several big advantages to this approach:
I could check the quality of the shot (e.g. the framing)
I could offer live tech support
I could make sure the content itself was right, and encourage the contributor to bring the level of energy we needed
There was no risk of having to ask them to re-record
If you are able to direct, think about how you can get the best possible delivery from your contributor. Will they perform better if they have a script, if they ad lib based on key points, or if you ask them questions? The answer will vary for different people! Always stay positive so that they feel relaxed and confident. Ask them to imagine they're talking to a room full of people, instead of to their phone in a box room. Listen carefully to what they're saying, and think about whether there's a more concise way to say it that will work better in the edit.
4 – Take the time to get it right
As I explained in this blog about how to film yourself with your phone, it's crucial not to rush into these things. If you take the time to plan the end result before you start gathering content, you'll know exactly what you need. If you take the time to explain the process properly to the people involved, you're less likely to end up with wild inconsistencies in what you get back. And if you do have the luxury of directing the content, don't start recording until everyone is comfortable and the shot is exactly how you want it to look. I've previously had to ask people to try and bunch of different rooms in their house before we found the best setting, and I didn't regret it.
I hope that's been useful. If you have any questions, or need any help gathering or editing self-shot video content, please send me an email or book in a 30-minute chat with me.